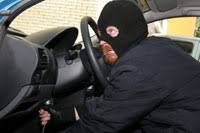 How to Prevent Michigan car thefts:
A vehicle is stolen every 44 seconds in the United States, according to the National Highway Traffic Safety Administration (NHTSA), that's why you must follow these car theft prevention tips. While the number of auto thefts has declined in recent years compared to 10 years ago, it is still a multi-billion-dollar crime.
Don't leave valuables out in the open like cell phones or laptops.

Put presents in the trunk were they are not visible.

Make sure that you lock your door.

Don't leave your car running and unoccupied.

Don't hide an emergency key in a magnetic key-holder in the wheel well.

Never leave items visible in the passenger compartment of your car, even if you think they aren't valuable. 

 If you own a GPS unit, never leave it visible when leaving your car unattended. If your GPS unit attaches with a suction cup, hide it and the GPS unit when you exit the vehicle.

High-end car stereo components are also frequent targets. Removable units or locking faceplates can reduce the likelihood of car thefts or loss of your stereo.
Most commonly stolen vehicles
According to NICB, The top 10 most stolen cars as of 2019:
Honda Civic 

Honda Accord 

Ford F-Series Pickup 

Chevrolet Silverado Pickup 

Toyota Camry 

Nissan Altima 

Toyota Corolla 

GMC Sierra Pickup 

Dodge/Ram Pickup 

Jeep Cherokee/Grand Cherokee 
What to do when your car is stolen
Contact the police immediately to file a stolen-vehicle report. You will need a copy of the police report number to provide to your insurance company. Information you will need to give to the police:

License plate number;

Make, model, and color of your vehicle; and

Vehicle Identification Number (VIN) and any identifying characteristics.

After your vehicle is stolen, contact your insurance company to file a claim within 24 hours.

If you find your vehicle is recovered, contact the police and your insurance company immediately.
Following these practical techniques will help to reduce Michigan car thefts and will keep the valuables that you might have in the car safe. Having an auto alarm with a disabling device will help prevent car theft and can also help save on your auto insurance.  To get a Michigan insurance quote, click on the link or call 248-277-4505.