Why do you Need a Michigan Notary Bond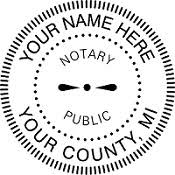 The State of Michigan requires a Notary Bond to become a Michigan Notary. A Michigan Notary bond protects the public from mistakes you make while performing your notarial duties during the term of your commission that result in damage to the public. The bond protects against errors, omission, or negligence caused by the Notary either voluntarily or involuntarily. Purchasing a bond also provides a financial guarantee up to the limits of the bond if the Notary is at fault.
How do you apply for a Michigan Notary Bond
Your Michigan Notary Public application must include your driver's license number, full name, date of birth, residential address (the address on your driver's license or state id), business address, and telephone number. Click the highlighted link for the Michigan Notary Application to print a copy of the notary application. Your social security is not needed, and the application does not require a credit check.
You can fill out the form below to submit your Notary Bond application. Typically a bond can be issued within one business day. You will need the bond when your County Clerk administers the Oath of Office.
How Much does a Michigan Notary Bond Cost
The bond will be either six or seven years term; the exact length of time depends on the applicant's birth date. The cost will be a one-time payment of $50 for that period. To terminate your bond for any reason requires 60 days' prior notice.
Information on Notary Bond Requirements
Finally, more information on bond requirements in Michigan can be found at Michigan Notary Bond Requirements or purchase your bond by calling 248-277-4505.